不好意思,依然很忙...mU_Um
Astonishing X-Men換了MARJORIE LIU當主筆後我就沒看了,不是說她文筆差,平心而論,她說故事的功力還不錯,而是因為她對龍哥的了解實在太粗淺,不過我很高興Astonishing的出場隊列裡沒有龍哥,我最討厭編劇隨便鋪寫他們不擅長的角色了。
分享一點小小的(有點年代的)、跟龍哥有關的資訊
: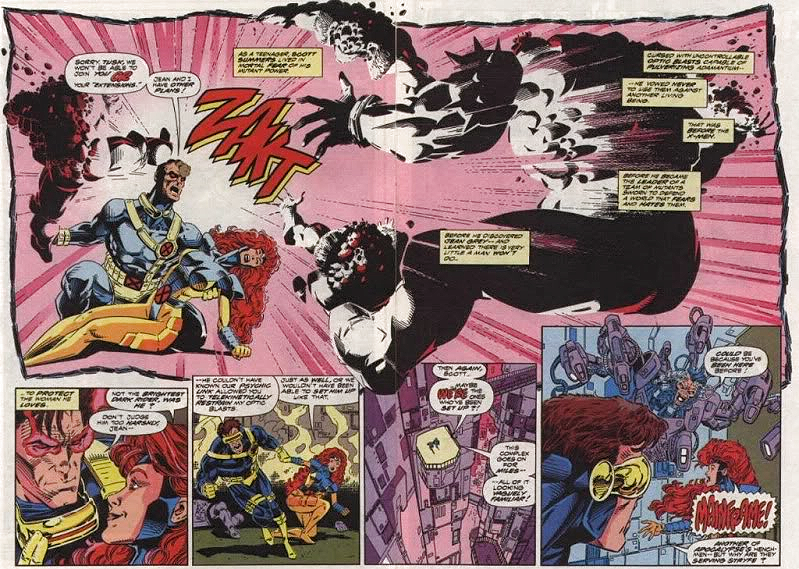 右上角的黃色框框裡寫著"Cursed with uncontrollable Optic blasts capable of PULVERIZING ADAMANTIUM"。
這樣修理笨蛋狼就很實用了,當然,這麼久以前的資訊我是不期待有幾個作者能記得,只要他們別把龍哥的衝擊波跟超人先生的雷射光搞混我就謝天謝地了,不過既然讓我碰到好心人提供如此珍貴的畫面,那我當然得跟各位分享一下~
UNCANNY X-MEN #15 & 16
KIERON GILLEN (w) • DANIEL ACUÑA (A&C)
AVX TIE-INS!
• We can't say much or we spoil the event of the summer!
• The X-Men move against the forces of SINISTER!
32 PGS. (EACH)/Rated T+ …$3.99 (EACH)
Uncanny X-Men #11
Kieron Gillen (W) • Greg Land (A/C)
Avengers Art Appreciation Variant by Greg Horn
• AvX Tie-In!
• Cyclops Leads The X-Men In To Their Toughtest Battle Yet!
• Juggernaut-Powered Colossus Vs. The Red Hulk!
32 Pgs./Rated T+ ...$3.99

Uncanny X-Force #24
Rick Remender (W) • Phil Noto (A/C)
Avengers Art Appreciation Variant by Julian Totino Tedesco
• Aoa Wolverine, Deadpool And Nightcrawler Go On Mission To Kill Aoa Iceman!
• What's Left Of X-Force Returns From Otherworld!
32 Pgs./Parental Advisory ...$3.99

UNCANNY X-FORCE #27 & 28
RICK REMENDER (w)
Issue #27 - PHIL NOTO (a)
Issue #28 - JULIAN TOTINO TEDESCO (a)
CoverS by JEROME OPEÑA
• X-Force land themselves somewhere you've never seen them.
• A new member joins the team!
• Rising star Julian Totino Tedesco (VENOM: CIRCLE OF FOUR, JOHN CARTER GODS OF MARS covers) joins the best creative team in comics for two issues!
32 PGS.(EACH)/Parental Advisory ...$3.99 (EACH)





NEW MUTANTS #45 & 46
DAN ABNETT & ANDY LANNING (w) • LEANDRO FERNANDEZ (a)
CoverS by JOHN TYLER CHRISTOPHER
• Cannonball and Karma return! But why are they suddenly many years older? And what's up with the Warlock tech they're wearing?
• It continues here: the climax of all the sinister seeds that DnA have been planting…in "Fear The Future"!
32 PGS./Rated T+ …$2.99



AvX: Vs #1 (Of 6)
Cover by Adam Kubert
Variant Cover by Stuart Immonen
Amazing Spider-Man 50th Anniversary Variant by TBA
• The Premier Tie-In To Avengers Vs. X-Men!
• All-Out Action Featuring Cover To Cover Battles, Each Issue Expanding On Fights From The Main AvX Book In Ways You Can't Imagine!
• This Issue: Iron Man Vs. Magneto And Thing Vs. Namor!
32 Pgs./Rated T+ ...$3.99
ASTONISHING X-MEN #51
MARJORIE LIU (w) • MIKE PERKINS (a)
Cover by DUSTIN WEAVER
Variant Cover by MARKO DJURDJEVIC
32 PGS./Rated T+ …$3.99
Astonishing X-Men #49
Marjorie Liu (W)
Mike Perkins (A)
Cover by Dustin Weaver
• The Marauders Are Back!
• Something From Northstar's Past Has Resurfaced And Is Looking For Revenge.
• Kyle Goes Missing – How Is He Connected To The Person Behind Everything?
32 Pgs./Rated T+ ...$3.99
X-Men #27
Victor Gischler (W)
Jorge Molina (A/C)
Avengers Art Appreciation Variant by Khoi Pham
• Concluding Open Contract, The Story Of The Forgiven.
• The Marvel U's Deadliest Assassins Have Been Sent After The Forgiven...And Are Trying To Kill Jubilee!
• Guest-Starring Lady Bullseye, The Assassin's Guild, And Lord Deathstrike
32 Pgs./Rated T ...$3.99
X-MEN #32
BRIAN WOOD (w) • DAVID LOPEZ (a)
Cover by JORGE MOLINA
• Learn the secret origin of the proto-mutants
• How long can Storm keep Cyclops from taking control of her team?
32 PGS./Rated T …$3.99


X-MEN LEGACY #271
Christos Gage (W) • RAFA SANDOVAL (a)
Cover by SALVADOR ESPIN
• Cut off from the world she knows, Rogue struggles to survive in an alien landscape!
32 PGS./Rated T+ …$2.99
X-Men Legacy #265
Christos Gage (W)
Rafa Sandoval (A)
Cover by Mark Brooks
• Time Is Running Out For Weapon Omega, The Mutant Time Bomb. How Will The X-Men Disarm Him Before He Implodes And Takes The School With Him?
• A Recently-Returned Mutant Becomes A Full-Fledged Member Of Wolverine's X-Men.
32 Pgs./Rated T+ ...$2.99
Ultimate Comics X-Men #10
Nick Spencer (W)
Paco Medina (A)
Cover by Kaare Andrews
• It's Storm Makes A Desperate Last Stand Against Impossible Odds.
• The Battle Of Camp Angel Comes To A Brutal Climax.
• From The Rubble, A Nation Is Changed Forever.
32 Pgs./Rated T+ ...$3.99